No. Urut

7434
Sejak

30 Sep 2006
Pesan

1.524
Nilai reaksi

112
Poin

63
Dijual buku impor
kondisi used (bekas) harga terjangkau, kualitas ok!
Yao
A Life in Two Worlds
by Yao Ming, Ric Bucher
Rp 125.000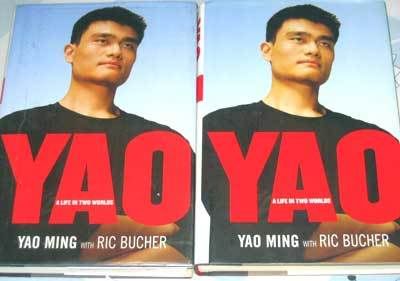 Since Yao Ming's electrifying NBA debut with the Houston Rockets in 2002, the 7-foot-5 Chinese center has appeared in numerous TV commercials, on magazine covers, and in countless basketball-highlights reels. And yet, despite Yao's status as one of the country's most recognizable sports stars, the remarkable story of how a shy, gangly kid from Shanghai went on to become the NBA's first foreign-born and developed #1 draft pick has remained, until now, largely unknown.With this memoir, Yao reveals himself as a thoughtful, opinionated young man whose insights extend far beyond the basketball court. He paints a compelling portrait of how his parents, both former Chinese basketball stars and fully aware of the bleak outlook for ex-players, resisted the Chinese government's interest in steering their son into the sport as a child. But the love of the game took hold of Yao as a teenager, and he began to sense both his own potential and the restraints he would face from the bureaucrats who ran the sport. As Yao's success in China grew, it became clear that his future would be with the NBA. But nothing came easily. With riveting detail, Yao recounts the white-knuckle gamesmanship required to win the approval of Chinese officials for his leap to America.Yao: A Life in Two Worlds vividly chronicles Yao's move from Shanghai to Houston: The sudden millionaire has to learn to drive his newly acquired car; the young man who has only ever had one girlfriend tries to make sense of pro-basketball's hard-partying life off-court; the supremely dominant player in China is transformed into a NBA rookie unnerved at the prospect of facing Shaquille O'Neal. But soon enough, aided by his easygoing manner and sense of humor that has proved so appealing to fans, Yao finds his moorings and flourishes as a major NBA star with a worldwide following.Sports writer Ric Bucherspent hundreds of hours in conversation with Yao in the U.S. and China, closely tracking the player's feelings and observations during that historic first season with the Rockets. Yao: A Life in Two Worlds is an inspiring account of how one man's faith in himself, hard work, and drive have taken him from national success story to international icon#151;and helped build a bridge between two countries.
Product Details
* Subtitle: A Life in Two Worlds
* Media: Hardcover Book, 256 pages
* Publisher: Miramax (September 22, 2004)
* ISBN-10: 1401352146
* ISBN-13: 9781401352141
* Dimensions: 6.06 x 9.29 x 1.34 inches
* Shipping Weight: 1.32 lbs
Tersedia 2 buah, kondisi bagus, 1 bekas perpustakaan
When Nothing Else Matters
Michael Jordan's Last Comeback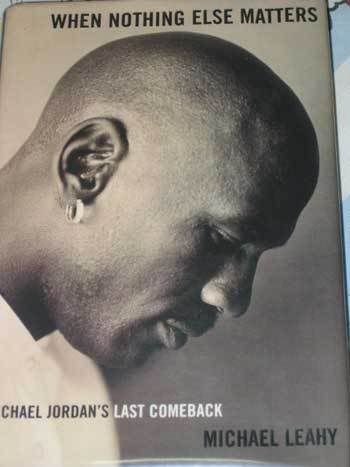 Rp 135.000(sold!)
As one of the greatest, most celebrated athletes in history, Michael Jordan conquered professional basketball as no one had before. Powered by a potent mix of charisma, nearly superhuman abilities, and a ferocious need to dominate the game, he won six NBA championships with the Chicago Bulls and captured every basketball award and accolade conceivable before retiring and taking a top executive post with the Washington Wizards. But retirement didn't suit the man who was once king, and at the advanced age of thirty-eight Michael Jordan set out to reclaim the court that had been his dominion. When Nothing Else Matters is the definitive account of Jordan's equally spectacular and disastrous return to basketball. Washington Post writer Michael Leahy reveals the striking contrast between the public Jordan and the man whose personal style alienated teammates and the Washington owner who ousted him.
# Subtitle: Michael Jordan's Last Comeback
# Media: Hardcover, 432 pages
# Publisher: Simon & Schuster (2004)
# Dimensions: 5.9 x 9 x 1.2 inches
# Shipping Weight: 1.1 lbs
Buku bekas perpustakaan, kondisi sangat bagus!, cuma ada 1!
The Last Season
A Team in Search of Its Soul
by Phil Jackson, Michael Arkush
Rp 125.000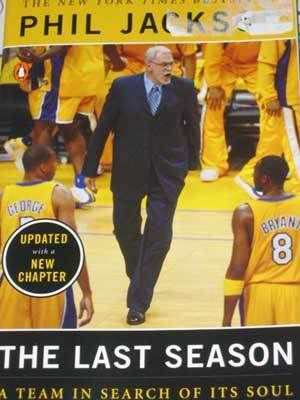 For the countless basketball fans who were spellbound by the Los Angeles Lakers' 2003– 2004 high-wire act, this book is a rare and phenomenal treat. In The Last Season, Lakers coach Phil Jackson draws on his trademark honesty and insight to tell the whole story of the season that proved to be the final ride of a truly great dynasty. From the signing of future Hall-of-Famers Karl Malone and Gary Payton to the Kobe Bryant rape case/media circus, this is a riveting tale of clashing egos, public feuds, contract disputes, and team meltdowns that only a coach, and a writer, of Jackson's candor, experience, and ability could tell. Full of tremendous human drama and offering lessons on coaching and on life, this is a book that no sports fan can possibly pass up.
# Subtitle: A Team in Search of Its Soul
# Media: Paperback Book, 304 pages
# Publisher: Penguin (Non-Classics) (2004)
# Dimensions: 5.35 x 7.87 x 0.79 inches
# Shipping Weight: 0.62 lbs
cuma ada 1 kondisi bagus!
Beckham
Both Feet on the Ground
by David Beckham, Tom Watt
Rp 120.000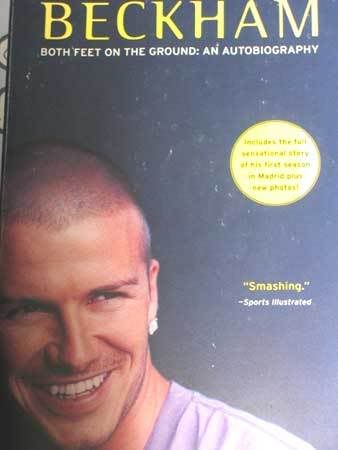 The Last Word on David Beckham
There is only one David Beckham -- and it's not always the one you read about in the newspapers and magazines or see in the movies. From humble East End London beginnings, the boy with prodigious soccer skills grew up to be one of the most gifted athletes of his generation as well as a sex symbol and fashion icon. Along the way he married Spice Girl Victoria "Posh" Adams, and together they inhabit a celebrity whirlwind of Diana-esque proportions. In Both Feet on the Ground, David talks candidly about the perils of fame (his wife and son were the targets of a notorious kidnapping plot and he is the subject of almost daily tabloid rumors); the struggle to balance his roles as a devoted husband and besotted father with his globetrotting existence as an international soccer star; the behind-the-scenes stories of his most memorable and heartbreaking (if only he could retake that infamous penalty kick against Portugal in Euro 2004) career moments; the controversy surrounding his first year at Real Madrid after his $41 million transfer from Manchester United, the storied English team he joined as a teenager and led for more than a decade; and, finally, his love of America, where he plans to start a soccer school and perhaps, one day, even play professionally.
Both Feet on the Ground is David Beckham's own extraordinary story, told by the man who knows him best -- David Beckham.
# Subtitle: Both Feet on the Ground
# Media: Paperback Book, 464 pages
# Publisher: Harper Paperbacks (November 01, 2004)
# Dimensions: 5.98 x 8.9 x 0.94 inches
# Shipping Weight: 1.25 lbs
Kondisi ok, bekas hadiah ultah orang, ada coretan happy birthday di dalemnya he3....
cover lecek dikit, cuma ada 1!
Whatever You Say I Am
The Life and Times of Eminem
by Anthony Bozza
Rp 115.000

(sold!)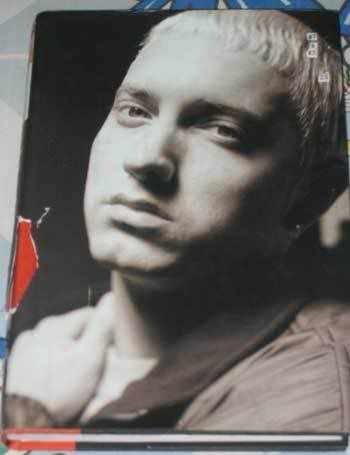 does eminem matter?
On assignment for his first cover story for Rolling Stone, the very first national cover story on Eminem, Anthony Bozza met a young blond kid, a rapper who would soon take the country by storm. But back in 1999, Eminem was just beginning to make waves among suburban white teenagers as his first single, "My Name Is," went into heavy rotation on MTV.
Who could have predicted that in a mere two years, Eminem would become the most reviled and controversial hip-hop figure ever? Or that twelve months after that, Eminem would sit firmly at the pinnacle of American celebrity, a Grammy winner many times over and the recipient of an Oscar.
did eminem change or did america finally figure him out?
Whatever You Say I Am attempts to answer this question and many more. Since their first meeting, Bozza has been given a level of access to Eminem that no other journalist has enjoyed. In Whatever You Say I Am, original, never-before-published text from Bozza's interviews with Eminem are combined with the insight of numerous hip-hop figures, music critics, journalists, and members of the Eminem camp to look behind the mask of this enigmatic celebrity. With an eye toward Eminem's place in American popular culture, Bozza creates a thoughtful portrait of one of the most successful artists of our time. This is so much more than a biography of a thoroughly well-documented life. It is a close-up look at a conflicted figure who has somehow spoken to the heart of America.
# Subtitle: The Life and Times of Eminem
# Media: Hardcover Book, 288 pages
# Publisher: Crown (October 21, 2003)
# Dimensions: 6.4 x 9.49 x 0.94 inches
# Shipping Weight: 1.36 lbs
Kondisi ok, sayang cover luar ada sobeknya...overall sih bagus, cuma ada 1
Semua harga tercantum udah
termasuk ongkos kirim TIKI
pembayaran transfer via BCA
info di 08129577308
harga ekonomis...! beli baru harga bisa dua kali lipat
contoh buku Yao Ming barunya 25 US belum termasuk ongkir ke Indonesia
siapa cepat dia dapat!