No. Urut

210735
Sejak

9 Jan 2013
Pesan

7.471
Nilai reaksi

96
Poin

48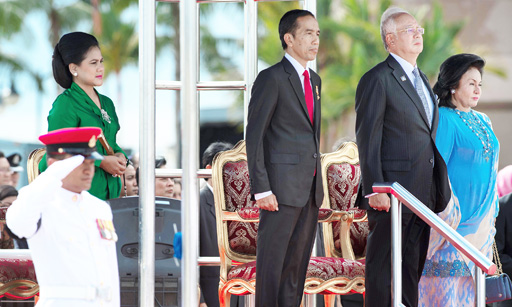 President Joko "Jokowi" Widodo arrived in Kuala Lumpur on Thursday evening, as part of his five-day introductory visit to three ASEAN member countries. The President and his entourage were received by Malaysian Prime Minister Najib Razak.
According to the 10-member regional grouping, a new leader of its member states has the customary tradition of visiting the ASEAN members and introducing him or herself to other leaders in the region. The President actually met with all of the ASEAN leaders when they attended the ASEAN annual summit in Myanmar and the Asia-Pacific Economic Cooperation (APEC) meeting in Australia, just several weeks after his installment as President late last year.
Apart from Malaysia, the President will also meet with Brunei Sultan Hassanal Bolkiah in Bandar Sri Begawan on Saturday and will have a bilateral summit with the Philippines President Benigno Aquino III in Manila on Monday.
His entourage includes First Lady Iriana, Coordinating Economic Minister Sofyan Djalil, Trade Minister Rachmat Gobel, Manpower Minister Hanif Dakhiri, as well as Foreign Minister Retno LP Marsudi.
Deputy Foreign Minister AM Fachir described the tour as "very substantive" given that it "is the first phase of the President's visits to friends in the Southeast Asia region".
According to Fachir, Indonesia would focus on discussions about the economy and protection for Indonesian citizens abroad with the three countries. Border problems would also be on the agenda with Malaysia.
Jokowi is scheduled to hold a bilateral meeting with Razak on Friday and to make a field visit to a Malaysian car factory near the capital, Kuala Lumpur.
Malaysian news agency Bernama reported that Malaysian Foreign Minister Datuk Seri Anifah Aman had recently said that Malaysia and Indonesia had agreed to continue negotiations to find a solution to maritime boundary issues, particularly those involving the Sulawesi Sea — or Ambalat — the Malacca strait and the South China Sea.
"The roadmap has been agreed by the two ministers. We will later push the technical team to keep negotiating," Fachir said recently, adding that he hoped the team would be able to resolve the maritime boundaries issue soon.
Hanif revealed that the President was also scheduled to discuss the protection of Indonesian migrant workers with Malaysia, where around 2 million Indonesians were employed, mostly as housemaids and on oil palm plantations.
Hanif said that he had received "a positive response from the Malaysian government" on a provocative advertisement in Kuala Lumpur, adding that the advertisement had been released by a private company, not the government.
When asked about the President's visit to Manila, the minister said: "Both Indonesia and the Philippines have many people working overseas; probably, we can exchange experiences in handling migrant workers abroad."