No. Urut

210735
Sejak

9 Jan 2013
Pesan

7.471
Nilai reaksi

96
Poin

48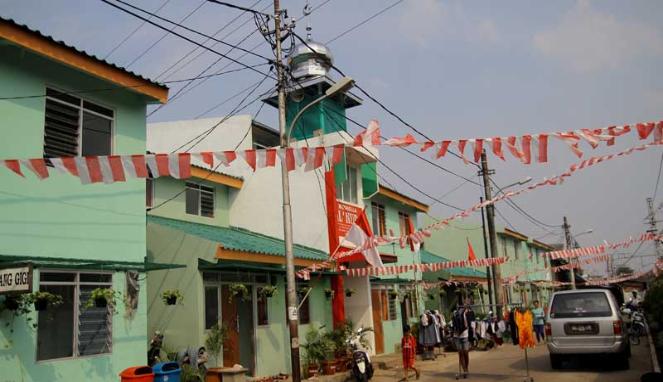 Srihati, 42, was busy cooking in the yard of a mushola (a small place of worship for Muslims) in Kampung Deret (village of row houses) Petogogan in Kebayoran Baru, South Jakarta. She runs a small warung (food stall) at home, but as the construction of her house is not completed yet, she has had to temporarily relocate her business.
"My house is over there. The construction isn't finished yet so I moved here temporarily to keep the business going," she told The Jakarta Post, while pointing at her house — located about 200 meters away from the mushola, on Saturday.
Like Srihati, Maulana Eka Saputra, 30, also runs a small warung selling food and pre-paid cellular credit vouchers at home.
"My house's construction was completed about a week ago so I have resumed my business. It's a bit different from before because now we are not allowed to put the display racks in an open area. It should be inside the house to keep the open area clean and tidy," he said.
Many other rules have been introduced by the city administration, which funded the project.
"We can't dry laundry in the yard and we can't litter. We should take care of our own garbage. Several problems remain, though, as the house design did not provide us a proper space to dry our laundry," another resident, Teguh Saputra, 31, said.
Maulana said that some residents had suggested that the city administration build a communal laundry area.
"There's a small space in the compound and if that space can be turned into a communal space to dry laundry, that will be a good thing. In the meantime, we have no other choice but to dry our laundry in the porch," he said, adding that "we do it tidily, though. So it doesn't look too bad."
Kampung Deret Petogogan, the first kampung deret inaugurated by the governor, was dubbed as the model for other kampung deret projects in the city because "it was showing the best result", according to city officials.
Following the completion of the construction and the project's inauguration earlier this month, most residents have returned to their new houses, while several others were putting some finishing touches.
Many things have changed for them.
"The neighborhood looks tidier: the houses and the street look tidy. Although several houses are still putting some finishing touches so we can still see construction materials here and there, but the overall view brings joy to my eyes," Teguh, 31, who has lived in the area since he was born, said.
Residents, most of whom used to live in the area as squatters, also expressed their gratitude, saying that they no longer have to worry about eviction.
"Praise Lord now we have obtained certificate to use the building [HGB]," Wartim, another resident, said.
The Kampung Deret project, which was among Governor Joko "Jokowi" Widodo's champion programs, was aimed at rebuilding and redeveloping slum areas in the capital.
The city administration aims to build more kampung deret in 74 locations across the capital, 15 of which are located in South Jakarta, this year alone. The number will quadruple next year.
In addition to reconstructing the houses, the city administration also provide public facilities, including a green space and free wifi connection.
Limited space, however, remains an issue.
Maulana pointed out that the residents did not have a space to park their motorcycles.
"There is a plan to rebuild the mushola. We expect that it could be turned into a three-story building to accommodate a parking area, a kindergarten and a mushola," he said.