No. Urut

210735
Sejak

9 Jan 2013
Pesan

7.471
Nilai reaksi

96
Poin

48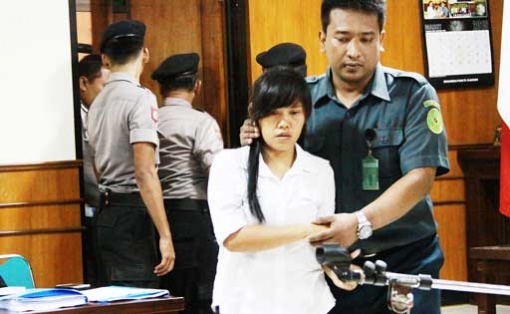 Attorney General M. Prasetyo said on Tuesday that preparations for the executions of 10 death row convicts were nearly complete, with the convicts set to be transferred before the end of the week.
"We have only 5 percent left to prepare. This includes transferring the convicts to Nusakambangan," he told reporters at the Attorney General's Office (AGO) in South Jakarta, referring to the prison island where the first batch of drug-convict executions were held in January.
Previously, the AGO had planned for the death row convicts, including Bali Nine duo Myuran Sukumaran and Andrew Chan, to be executed by the end of February. However, following several technical issues, such as a lack of space in the Nusakambangan Island prison, the AGO was forced to postpone.
Prasetyo went on that he hoped that the convicts would be transferred to Nusakambangan by the end of this week. Only after the transfer was completed would the AGO decide on an execution date, he added.
"Everything had to be organized first before transferring the prisoners because we do not want them to be in the isolation cells for too long [before their execution]," Prasetyo said.
The attorney general also denied that he had been instructed to postpone the execution of a Brazilian convict, 42-year-old Rodrigo Gularte, as the latter might be mentally ill. He insisted that Gularte's mental health was perfectly fine when he acted as a drug courier.
Prasetyo added that the law stipulated that only children and pregnant women were exempt from the death penalty.
Separately, Bali prosecutor's office chief Momock Bambang Samiarso said that Sukumaran and Chan would be transferred to Nusakambangan, via Cilacap, Central Java, on Wednesday.
"The coordination has been completed. [The transfer] will be conducted tomorrow," Momock confirmed on Tuesday.
He revealed that the transfer would involving two military aircraft. He refused to give the details, confirming only that the planes were a Hercules and CN 295.
As many as six prosecutors and 22 police personnel from Bali Police Mobile Brigade will be in the team escorting the convicts.
Momock refused to give the date of the executions. However, he said that both convicts would be placed straight in the isolation rooms upon arrival.
Before they enter the isolation cells, they would be notified of their dates of execution, as well as asked for their three last requests, Momock explained.
By law, death row convicts must be notified of their execution at least 72 hours before it takes place.
Momock also told journalists to be on standby early in the morning, though he declined to specify what time the transfer would take place.
Sudjonggo, warden of Kerobokan Penitentiary where the Bali Nine duo are incarcerated, said that both Sukumaran and Chan already knew of the transfer plan, although they had not been officially notified.
The prison, he said, was ready for the transfer. "We have prepared all the administrative affairs," he said.
Sudjonggo added that the pair had decided to bequeath their belongings to the other Australian Bali Nine member once they left the prison.
Meanwhile in Cilacap, death row convicts have been receiving visits from their families. Serge Areski Atlaoui of France and Gularte were visited by their relative on Tuesday. Atlaoui was visited by his wife and his young child and other family members, while Gularte was visited by his cousins.
Gularte was found guilty of smuggling 19 kilograms of cocaine in his surf board in 2004, while Atlaoui was found guilty of being involved in the operations of an ecstasy and crystal methamphetamine factory in Banten in 2005.
In Yogyakarta, a hearing began on Tuesday on the case review of death-row drug convict Mary Jane Fiesta Veloso of the Philippines at the Sleman District Court in Yogyakarta. Veloso's lawyers argued that she had not been able to understand the trial that lead to her death sentence because she had been provided with an incompetent translator.
Veloso was arrested in Yogyakarta in April 25, 2010, in possession of 2.5 kilograms of heroin when she arrived on a flight from Kuala Lumpur. She is currently an inmate at the Wirogunan Penitentiary in Yogykarta.
She was intended to be one of the convicts to be executed in the second batch. The other convicts facing imminent execution are drug convicts Zainal Abidin of Indonesia, Martin Anderson alias Belo of Ghana and Raheem Agbaje Salami of Nigeria, as well as three Indonesian murderers: Syofial alias Iyen bin Azwar, Harun bin Ajis and Sargawi alias Ali bin Sanusi.
Agus Maryono in Central Java and Bambang Muryanto in Yogyakarta contributed to this story